Naxos Music Apps

Naxos Music Library provides access to the major standards of the classical repertory as well as to a wide selection of specialized repertories not available elsewhere on the web. Naxos Music Library Jazz is one of the largest collections of jazz music available online with more than 250,000 tracks, more than 26,000 albums performed by thousands of jazz artists.
Naxos Music Library World offers a wide range of World music, from legendary historical musical performances to contemporary world music. Recordings of over 32,000 artists are represented from over 1,500 cultural groups and over 150 countries.
1. Create a user account Naxos Music Library, Naxos Music Library Jazz or Naxos Music Library World. Please note that you need to create a user account for each platform.
2. In the Playlist tab, go to Sign up to create your user account.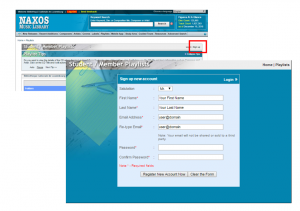 3. Download the application
4. You can now listen to music through your phone or tablet.
5. FAQ
For more detailed information, please have a look at the Naxos Guides:
Naxos Music Library
Naxos Music Jazz
Naxos Music World
My NML App access has been deactivated
If you haven't logged in to your NML Member Playlist Account in the last six months, your Naxos Music Library App (NML) has been temporarily deactivated.
To reactive your account, please go to Naxos Music Library , click on the Playlists menu item and log in with your User account . Your Naxos Music Library App (NML) will be automatically reactivated.
In case of problem, please send us a mail to help@consortium.lu