Naxos Music
Naxos Music Library provides access to the major standards of the classical repertory as well as to a wide selection of specialized repertories not available elsewhere on the web. Naxos Music Library Jazz is one of the largest collections of jazz music available online with more than 100,000 tracks, more than 9,000 albums performed by more than 12,000 jazz artists.
1.Create a user account Naxos Music Library or Naxos Music Library Jazz. Please note that you need to create a user account for each platform.
2. In the Playlist tab, go to Sign up to create your user account.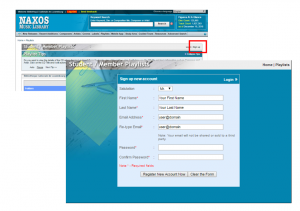 3. Download the application
4. You can now listen to music through your phone or tablet.