In order to access content from specialist databases and publisher platforms, you need to be an authorised user i.e. to be registered and possess a valid reader card issued by the National Library or any other library of the Consortium Luxembourg.
We recommend contacting one of the institutions responsible for issuing you with a reader card:
Most of the publications in the digital library are not owned by the National Library. Instead, contracts are negotiated containing access permissions, which define type and scope of access for library users.
Access can be:
limited to local networks of the library
unlimited, i.e. accessible from outside the library, e.g. home: in order to access restricted documents in the digital library, you need to login with your reader card and password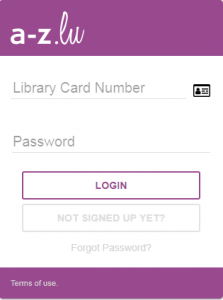 Your User account contains all information necessary to use the library's services:
get an overview of your library activities (loans, interlibrary loan, reservations, fees)
update your personal information (so that the library can contact you)
check library subscription(s) and their expiration date(s)
save and manage successful search queries and search results
For further information, please go to your personal space in the a-z.lu help section.