On completing a successful search, you receive information on the availability of online documents relating to the title you found as well as information on alternative ways to get the title, if there is no immediate access to it (e.g. via interlibrary loan (ILL)).
In the results list from a-z.lu, click on "Online access".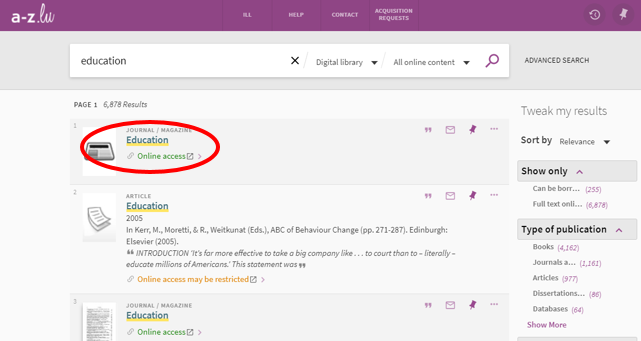 Please find here more information about Indication of resource availability.
Display of access options
The access information will be listed in a separate browser window.
Depending on the document, the following information will be displayed:
●     Article citation

●     Link to full text

●     Article recommendation

●     Other online documents

●     Citation export

●     Help

●     Order via interlibrary loan

Citation
At the top of the menu, you see the citation of the article, e-book or e-journal. Below that, you find the corresponding information relating to online access.

Link to full text access
The full text appears directly below the citation. Sometimes, a title is accessible from several publisher platforms, but access is subject to varying usage regulations. Find details where applicable in the note below the link.


If instead of the link a message is displayed "no full text", than there is no digital version available for the document or it is not licensed by the Consortium.
With thousands of data records being managed and constantly updated, errors can occur in some situations. Find tips in our FAQ on how to quickly test whether you can still access the full text, if you receive an error message for something that worked before. In addition, please report the problem to the Helpdesk. To do so, click on the contact form "Feedback Form" further down in the menu or send us an email to help@findit.lu.
Article recommendation (bX service)
Similar to recommendations on shopping websites, the so-called bX recommender helps you to find relevant literature which you would not have found otherwise. By analysing millions of searches worldwide, the system checks, on the basis of the accessed article, which other articles are related to this one and presents a list of additional relevant articles.
For authors registered in the database Web of Science, there is a link to further articles available in Web of Science by the same author.
More online resources
Besides the full text link, you will also be given access to abstracts or tables of contents.
Get help

This link leads you to a contact form in which you fill in your request. The helpdesk of the National Library will be sent your request and endeavour to answer as soon as possible.
Order the document via interlibrary loan
If the desired document is not available online, you will see the link to the interlibrary loan. In this way, the National Library offers you an alternative way to order a copy of the document via other libraries (abroad).