In Pubmed and Google Scholar, you can add a direct request about the availability of online documents licensed by the Consortium directly to your search results. Simply activate the connection to the Consortium Luxembourg / findit.lu.
Google Scholar
In Google, no registration is required for configuration.
The connection is activated as follows:
Open Google Scholar in your browser: http://scholar.google.com.
Select « Settings »:
Select « Library links » from the menu and search for Luxembourg:
Select « Consortium Luxembourg – findit.lu – findit.lu" and click "save" to save your personal settings: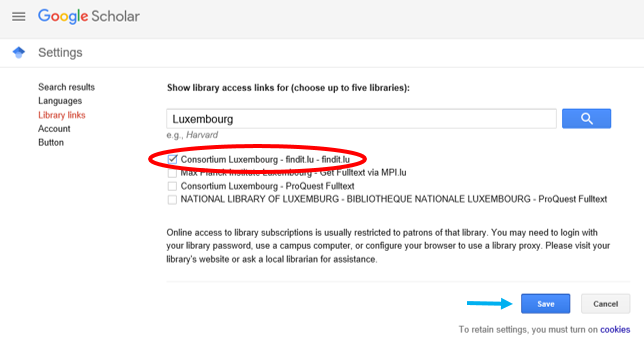 Go back to the results list and then click on the findit.lu-link on the right side. You will find the available access option displayed as usual (see chapter Access options for the document for more information):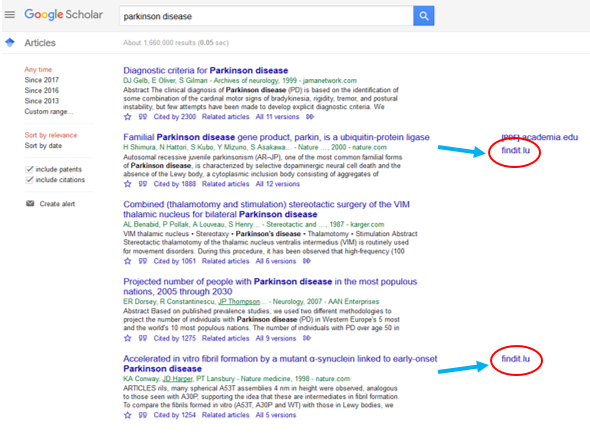 Pubmed
In Pubmed, you need to create a user account in order to set up the connection:
Open Pubmed in your browser: http://www.ncbi.nlm.nih.gov/pubmed/.
Create a "MyNCBI" account and login:
In your account "My NCBI", select "NCBI Site Preferences" and then "Outside Tool":
In the results list, navigate to C and select the Consortium Luxembourg:
Do not forget to save your settings.
As an alternative of this manual configuration, you can install the Lean Library Browser Extension. Go to www.leanlibrary.com/download, install the extension in your browser and select your institution (Bibliothèque nationale de Luxembourg, University of Luxembourg, LIST.lu or LIH.lu).
Whenever you use Google Scholar or PubMed for searches, the Lean Library Browser Extension will ensure that articles available through your library are displayed directly in Google Scholar and PubMed.