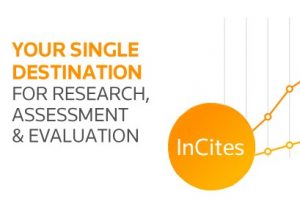 Consortium Luxembourg is offering trial access to InCites, a research analytics platform produced by Clarivate Analytics (formerly Thomson Reuters). Web of Science, EndNote and Journal Citation Reports are other resources from Clarivate Analytics.
Trial access to InCites will end 14 July 2017.
InCites is based on publication/citation data from Web of Science and allows for in-depth analysis of trends and benchmarking  for individuals, groups, organizations, countries and research areas.
Other features include:
Identify collaborators and subject matter experts
Promote areas of strength and specializations
Demonstrate results and impact
Trial access to InCites: https://incites-thomsonreuters-com.proxy.bnl.lu
InCites can be accessed from anywhere with a valid library subscription of National Library, University, LIST or LIH.
Please log in to InCites using your Web of Science profile credentials (the same credentials you use for saving searches/alerts in Web of Science or EndNote online).   If you do not have a Web of Science profile, click the InCites link to register for a free profile.
A training module video covering the features of InCites is available: http://wokinfo.com/training_support/training/incites/.