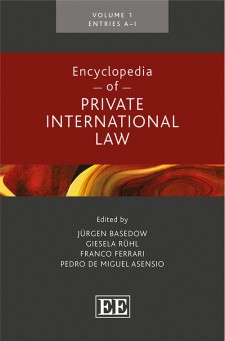 Consortium Luxembourg is happy to announce that a trial for "Encyclopedia of Private International Law" (Edited by Jürgen Basedow, Giesela Rühl, Franco Ferrari and Pedro de Miguel Asensio) is available until 1st October 2017.
The role and character of Private International Law has changed tremendously over the past decades. With the steady increase of global and regional inter-connectedness the practical significance of the discipline has grown. Equally, so has the number of legislative activities on the national, international and, most importantly, the European level. With a world-class editor team, 500 content items and authorship from almost 200 of the world's foremost scholars, the Encyclopedia of Private International Law is the definitive reference work in the field. 57 different countries are represented by authors who shed light on the current state of Private International Law around the globe, providing unique insights into the discipline and how it is affected by globalization and increased regional integration.
The Encyclopedia consists of three inter-linked pillars, enhanced by sophisticated search and cross-linking functionality. The first pillar consists of A-Z coverage of the scope and substance of Private International Law in the form of 247 entries. The second pillar comprises detailed overviews of the Private International Law regimes of 80 countries. The third pillar presents valuable, and often unique, English language translations of the national codifications and Private International Law provisions of those countries. This invaluable combination represents a powerful research tool and an indispensable reference resource.
The Encyclopedia is accessible inside the buildings of the University of Luxembourg and the National Library.
Direct link: Encyclopedia of Private International Law