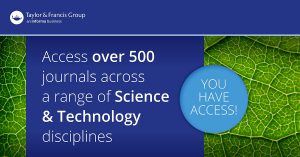 Consortium Luxembourg is pleased to announce that it is now offering access to the Science & Technology Library collection from Taylor & Francis.
More than 530 peer-reviewed journals for research and teaching in the following research fields are accessible:
   Biological, Earth, Environmental & Food Science
    Chemistry
    Engineering, Computing & Technology
    Mathematics & Statistics
    Physics
    Sports Science & Medicine
The collection includes high impact journals like Autophagy, Contemporary Physics and Critical Reviews in Plant Sciences.
Access is available for all users with a library card of the National Library, University of Luxembourg, LIST or LIH.