There was a recent update on searching within Web of Knowledge via findit.lu. Existing search alerts including the database "Web of Knowledge" have to be updated.
Before explaining how to update we will give you a small theoretical instruction:
Web of Knowledge in general is the name of the comprehensive research platform.
It consists of several databases containing different kind of information. Via findit.lu you have access to the three citation databases (Science Citation Index Expanded, Social Sciences Citation Index and Arts & Humanities Citation Index) as well as to the two conference proceedings citation indexes (Conference Proceedings Citation Index Science and Social Sciences & Humanities).
Details can be found here: http://images.webofknowledge.com/WOK46/help/WOK/h_database.html

If you searched Web of Knowledge using findit's search engine in the past, you always searched through all databases Web of Knowledge consists of at once.
Thomson Reuter's technical update doesn't provide a search of Web of Knowledge on the whole via findit.lu anymore.
There are two ways to deal with this update:
 Choose one of the mentioned citation or conference proceedings databases to perform a search. Disadvantage: You are only searching one of the databases at once.
 For advanced users who still want to search all databases with one search request we suggest to create a Quick Set with all sub-databases and / or use the MetaSearch.
Within the Web of Knowledge interface you can still perform a search above all databases at once.
You will find the "new" sub-databases by searching for "web of knowledge" in the "Find Database"-menu.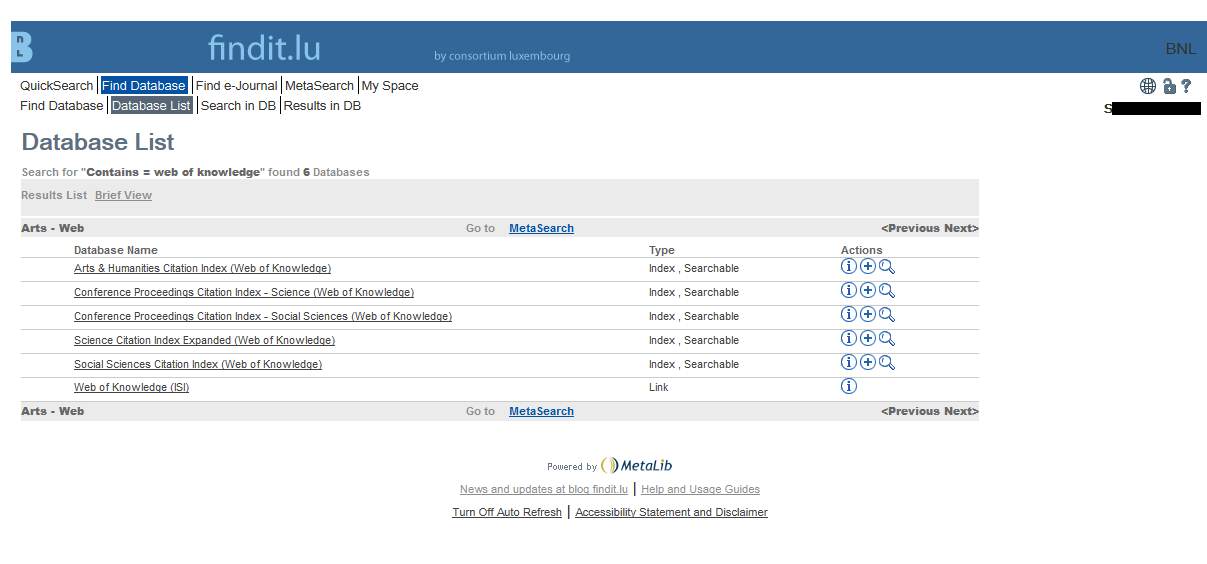 Users holding search alerts which are searching Web of Knowledge are requested to delete the existing search alert and to add one or several new search alerts using the different sub-databases.
This is how to approach:
Connect to findit.lu and choose My Space < History by clicking the x – sign next to the search alert which includes Web of Knowledge. Your old alert is now deleted.
Perform a new search by searching for the new sub-databases and click the magnifying glass icon next to one of the desired databases. Once you have a list of results from your search, you can create your new search alert.
Need help, creating a search alert? – See our How-to Series, Episode 9.
If you want to search more than one of the mentioned databases, please create a QuickSet (How-to Series, Episode 7) and use MetaSearch to create your search alert.
Need any further assistance? Contact us at help@findit.lu.