Consortium Luxembourg is happy to announce the acquisition of 1.700 new ebooks of de Gruyter and transcript Verlag.
All ebooks can be accessed from anywhere with a valid library subscription of National Library, University, LIST or LIH.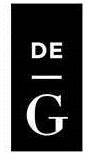 We purchased access to all Linguistics and History ebooks published in 2014 at degruyter.com:
De Gruyter Linguistics 2014 (150 titles)
De Gruyter History 2014 (255 titles)
This includes publications from de Gruyter itself, but also publisher partners like Böhlau Verlag or Harvard University Press.

Additionally, we purchased the complete ebooks collection 2010-2014 of transcript Verlag.
All of those more than 1.300 titles can be accessed here.
Subjects cover cultural sciences, social sciences, history and philosophy.
You will also find the recent publication of University's research unit "Identités. Politiques, Sociétés, Espaces (IPSE)".
All ebooks can also be found and accessed via findit.lu and a-z.lu.