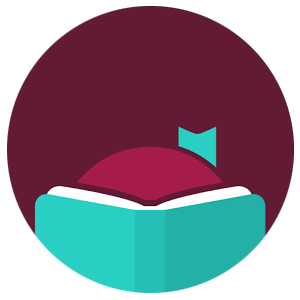 Some users might experience some issues using the Libby App for downloading new ebooks or audiobooks.
Please find below some advices that may solve the issues.
Bitte scrollen Sie nach unten für Erklärungen in deutscher Sprache.
Did you already reset your a-z.lu password?
On 30 Nov 2022 our new library system ALMA was launched, that's why all a-z.lu passwords have been reset. If you haven't login since then, please click the "reset password" link in the description and follow the instructions.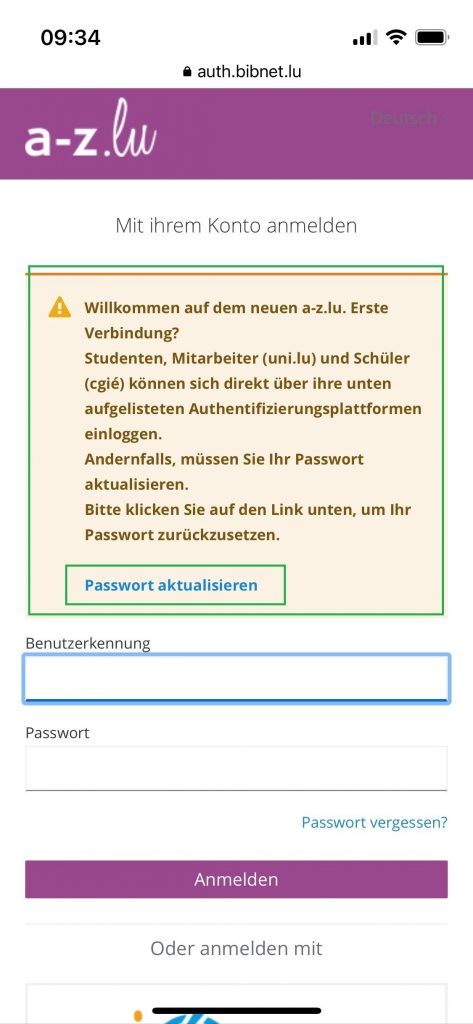 2. I have already reset my password, but my old loans aren't visible anymore.
Due to the password reset and new login, sometimes two library cards are connected with Libby.
Please go to the Libby main menu (3 lines) – Your libraries – Manage cards.
Now you will probably see two cards: one with 0 loans, another one with active loans (e.g. 1 out of 8).
To go back to your old loans, we suggest to delete the new card (0 loans) by tapping on "Actions" – "Remove card". Your previous loans should now be visible again in Libby.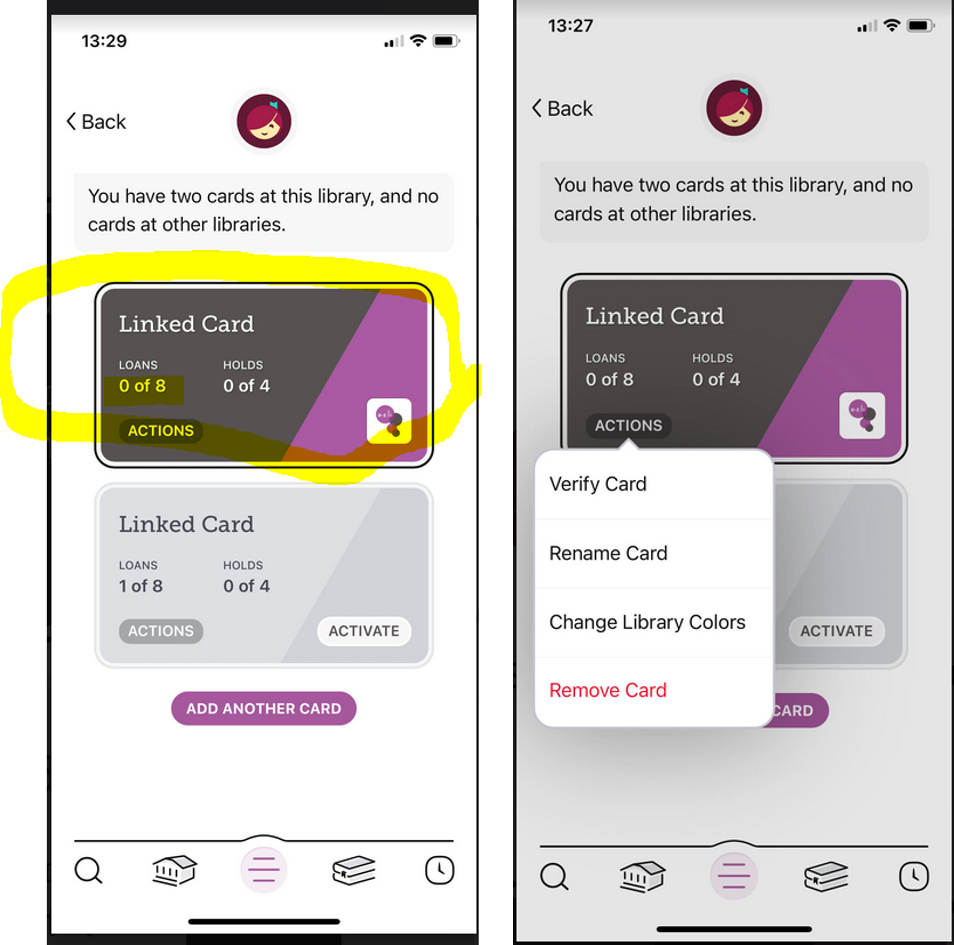 If you're still experiencing problems, please send an email (preferably with a screenshot) to: help@consortium.lu.
Erklärungen in deutscher Sprache
Einige User haben aktuell Probleme beim Login mit der Libby App. Wir haben für Sie ein paar Tipps aufgelistet, die die Probleme lösen sollten.
Haben Sie bereits Ihre a-z.lu Passwort zurückgesetzt?
Am 30.11.2022 wurde das neue Bibliothekssystem ALMA eingeführt. In diesem Zuge wurden alle a-z.lu Passwörter zurückgesetzt. Falls Sie sich seit dem 30.11.2022 noch nicht wieder eingeloggt haben, klicken Sie bitte den "Passwort aktualisieren" Link im Beschreibungstext und folgen Sie den Anweisungen.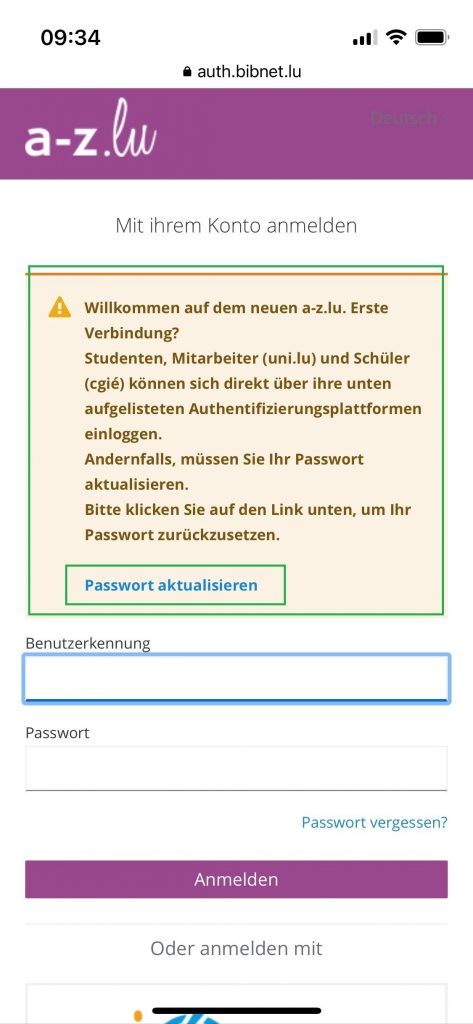 2. Ich haben mein Passwort bereits aktualisiert, aber ich kann meine alten Ausleihen nicht mehr in Libby sehen.
Aufgrund der Password Aktualisierung und dem neuen Login kann es dazu kommen, dass manchmal 2 Bibliothekskarten mit Libby verknüpft sind.
Bitte gehen Sie in diesem Fall zum Libby Hauptmenü (3 Striche) – Ihre Bibliotheken – Ausweise verwalten.
Dort sind nun vermutlich 2 Karten zu sehen, eine ohne Ausleihen (0 von 8) und dann eine ausgegraute mit Ausleihen (zum Beispiel 1 von 8).
Wir empfehlen nun die Karte ohne Ausleihen zu löschen, in dem Sie auf "Aktionen" klicken und dann "Ausweis entfernen".
Sie sollten nun Ihre alten Ausleihen wieder in Libby sehen können.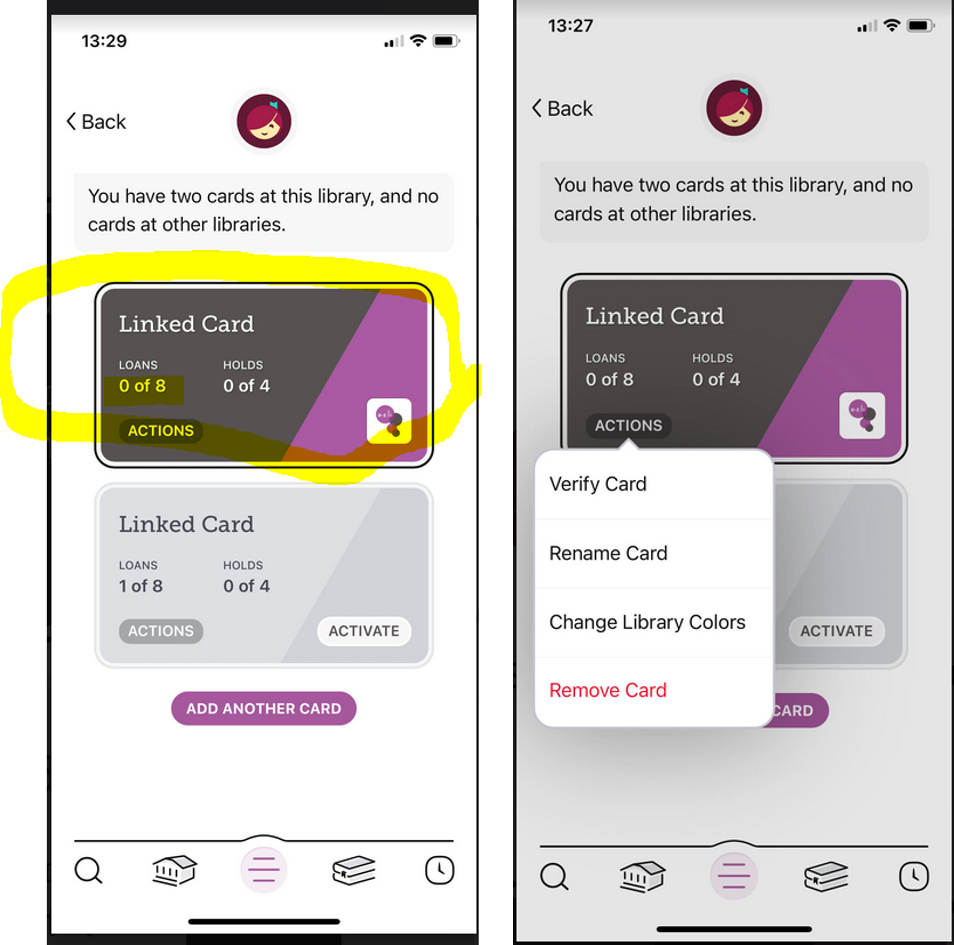 Sollten Sie weiterhin Probleme haben, schicken Sie uns gerne eine Mail (mit Screenshots) an help@consortium.lu.