Consortium Luxembourg is pleased to announce that we are now offering access to Max Planck Encyclopedias of Law: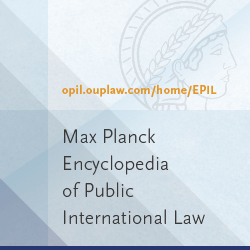 This major online reference work contains 1,700+ peer-reviewed articles on every aspect of the substance of international law. Written by an incomparable team of over 900 scholars and practitioners led by Professor Anne Peters, this comprehensive resource is essential for anyone researching or teaching international law. It was founded in 2004 by Rüdiger Wolfrum, building on the prior encyclopedia published by Rudolf Bernhardt from 1981 to 2003.

Max Planck Encyclopedia of International Procedural Law (MPEiPro)
The home of international law in practice
General Editor: Hélène Ruiz Fabri, Director of the Max Planck Institute Luxembourg for Procedural Law
The Max Planck Encyclopedia of International Procedural Law (MPEiPro) maps and analyzes the systems and processes through which international law is made and adjudicated in practice. Each article is commissioned by General Editor Professor Hélène Ruiz Fabri and a team of experts at the Max Planck Institute Luxembourg for Procedural Law, providing cutting-edge and rigorously peer-reviewed research on areas of international law that are often under-explored. MPEiPro will take a broad view of international procedure, examining it from three different angles: technical points of procedure within specific institutions or across similar organizations; comparative accounts of families of institutions within specific subject areas or with similar functions; and theoretical, interdisciplinary entries.
The scope of the Encyclopedia mirrors the broad understanding of procedure underlying it, encompassing decision-making by international organs in general, including political and administrative bodies. At launch, the Encyclopedia will cover dispute settlement and adjudication. Coverage of non-adjudicatory modes of dispute settlement such as negotiation, mediation, and conciliation, as well as international political and administrative procedures, will be added over time. The Encyclopedia will eventually contain over 1500 entries.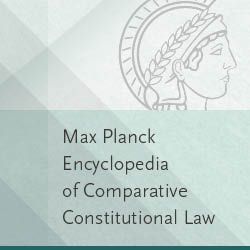 The Max Planck Encyclopedia of Comparative Constitutional Law (MPECCoL) provides a high level of analytical coverage of constitutional law topics in a comparative context. MPECCoL articles address a focused range of topics that provide the best coverage of the essence, character, development, and history of constitutional law from a global perspective.
Access is possible for all users with a library card of the National Library, University of Luxembourg, LIST or LIH.